Natural aviary
Black powder-coated mesh with a mulch floor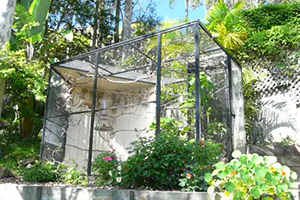 I'm a big believer in creating a naturalistic environment for captive birds. It's morally dubious that we keep them contained for our own pleasure, so I feel it is at least our duty to make their lives as comfortable as possible!
That means space, shelter, natural light, fresh air, good food and plenty of things to keep them mentally occupied and happy.
With that in mind, and slightly constrained by the limits of the plot available to build it, this aviary was created. I hope you find it useful as an example of a naturally styled aviary, that may inspire you to build a pleasant environment for your birds too. It's designed for a warm-temperate (frost-free) climate and is in a sunny, protected location.
Here's a quick preview of the final result — the aviary just after installation. Then you can read about the detail of its construction, and watch more videos, below.
Construction details
Size
It's 3.6m (11.8ft) long X 2m (6.6ft) wide, for plenty of flying space. The bigger, the better. Build larger than this if you can.
It's 2.2m (7.2ft) high, so it's comfortable to walk into but still easy for me to reach the roof for maintenance. I recommend building your aviary above your physical height, but no higher than you can reach with a stretched arm and a bird net.
Walls and roof
The walls and roof are black powder-coated 1cm (0.4in) mesh, plus sections of corrugated sheet metal (ColorBond) to create a sheltered area. The wire is powder-coated in black because this enables the eye to see straight through to the birds inside, and it looks very smart. Dark green powder-coating is also effective and attractive. By contrast, bare metal looks very industrial and, because it reflects light, severely obstructs viewing. I strongly recommend going to the trouble of powder-coating or painting the wire.
I chose cream for the sheet metal sections of the walls and roof, being a neutral and bright colour that prevents dark corners. I also chose to keep the majority of the roof open to the elements, using the black mesh. Yes, my birds can see the sky — and can get rained on if they choose to.
Many advise against open roofs, as it means wetter floors and exposure to wild bird droppings. These are very valid concerns. However, depriving my birds of full sunlight and a view of the sky seems unreasonable to me. They absolutely love this open setup.
There are also panels of clear PVC sheeting attached to sections of the mesh roof and walls, to extend the sheltered area for additional protection from wind and rain, without reducing light.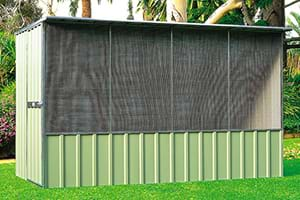 As an example of why these things are important, here's a shed-style aviary that's guilty of both offences — an opaque metal roof and sides, plus uncoated mesh. What's the point, if you can't see in?
An exposed shed-style aviary is also a dangerous heat trap. With hot Summer sun on that metal roof, in extreme weather you will have birds dropping off their perches.
The risk is high because birds instinctively move into deep shade in hot weather, because in nature the darkest places are the coolest. In an enclosed metal aviary, however, the darkest area is the hottest. A recipe for trouble. At the very least, find a way to shade the roof in Summer to minimise this oven effect.
One way or another, though, it is still essential to provide shelter from cool breezes — even quite light ones, if they are continual. Finches only weigh about 15g (0.5oz) under those feathers, and can die quickly in a draft they can't escape from.
Floor
The floor is natural earth with a 6cm (2.4in) layer of Eucalyptus mulch over it for dryness and hygiene. To enable it to dry quickly after rain, the floor is also raised 10cm (3.9in) above the surrounding ground for perfect drainage.
This kind of setup is not recommended for beginner bird keepers, nor for anyone with hip or back trouble. The top layer of mulch has to be replaced regularly, and extra care is needed to ensure the flock's health. If you are just starting out or don't fancy the maintenance, then a concrete or tiled floor, with a nearby hosepipe, is preferable.
Of course concrete is much less attractive and not so nice for the birds, but it may be a necessary compromise. Alternatively, 6-10mm (0.2-0.4in) smooth pebbles could work well as a dry floor and still look attractive.
Note that 5mm (0.2in) vermin mesh has been laid under the entire floor and stapled to the preserved pine sleepers around the perimeter, to prevent rats or mice from digging their way in and setting up home. This is a very important step for earth floors that should not be overlooked.
Here's a more detailed tour of the aviary once things had settled in. This video also talks about the importance of having plants in your aviary (and which ones to choose) and the use of natural branches for perching. See how many perches there are? This gives the finches plenty of mental and physical stimulation. I do hate seeing aviaries with just two sticks for the poor bored birds to fly between!
Door
Did you see the safety door in the video? Oh how I love my safety door. It makes daily maintenance so much easier, with no fear of losing inhabitants, especially those lightning-fast Parrot Finches. I cannot recommend highly enough that you find a way to include a safety door.
I also specified that the door must be full height. Oddly — and I feel strange even having to mention this — many pre-fabricated aviaries in Australia have miniature doors, about 1.3m (4.3ft) high. I find this to be the oddest of all design decisions, as it makes daily maintenance so awkward. Unless you happen to be less than 1.3m (4.3ft) tall, go for a full height door.
Bird bathing and drinking system
Here's an update I made of the watering and bathing system. It's better than the one in the previous video and works very well.
The fantastic natural-look stone bird bath in this video is the Rocky Mountain Spring by Birds Choice. Of all the things I've tried, it's my favourite bathing setup by far.
In case you can't find the same water tank in the video, here are some alternative rain barrels that look great for the job: Upcycle 55 Gallon (208.2L) and RTS Home Accents 50-Gallon (189.3L).
Birds at home
Lastly, here are the birds enjoying their rustic home-away-from-home. See how much they enjoy all the sunshine, natural sticks, weed grasses and leaves.
---
You might enjoy these books

Easy to Build Birdhouses a Natural Approach
A. J. Hamler

Birdhouses You Can Build in a Day
Popular Woodworking

Attracting & Feeding Garden Birds
Jen Green

A Complete Practical Guide to Caged & Aviary Birds
David Alderton
Click the images to buy the books.
In Australia?
Cheap Sheds have an attractive range of simple and affordable wood-framed and metal aviaries. View their entire range or check out these two we especially like:

Eucalyptus timber aviary
Cheap Sheds

Metal aviary
Cheap Sheds

In the USA?
Amazon has lots of finch cages and small aviaries. View their entire range or check out these ones that we think are the nicest for finches:

Portico aviary
Advantek

Vertical outdoor aviary
Paw Hut

Superior line xl flight cage
King's Cages

Double flight cage with stand

Wrought iron flight cage with stand
Prevue Pet Products